EDUCATION
B.A., cum laude, Harvard University
J.D., Northeastern University School of Law
BAR ADMISSIONS
Connecticut
Massachusetts
New Hampshire
Rhode Island
COURT ADMISSIONS
U.S. District Court, District of Massachusetts
U.S. District Court, District of Vermont
U.S. District Court, District of Rhode Island
U.S. Court of Appeals, 1st Circuit
U.S. Court of Appeals, 2nd Circuit
INDUSTRIES
PRACTICE AREAS
MEMBERSHIPS & AWARDS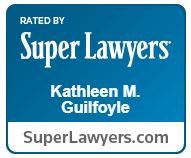 BIOGRAPHY
Kathleen M. Guilfoyle focuses her practice on aviation defense, products liability and drug and medical device defense.
Kathy represents several airlines, airport authorities, manufacturers, ground handling companies and airport and airline contractors in cases pending throughout the state and federal courts of Massachusetts, Rhode Island, New Hampshire and Vermont. This litigation includes the defense of claims involving personal injury, premises liability, the Air Carrier Access Act, discrimination, kidnapping and general commercial litigation. Kathy successfully argued motions for summary judgment under the Montreal Convention and other treaties. Kathy and her firm represent one of the non-carrier airlines in the litigation pending in the United States District Court for the Southern District of New York arising out of the terrorist attacks of September 11th. In this litigation, she also worked on responding to requests for information from the Kean Commission, and participated in non-public witness interviews of various airline personnel by Kean Commission staffers. Kathy was a presenter at multiple ACI Aviation Conferences in Boston.
In addition to those in the automotive and commercial trucking industries, Kathy has handled a variety of cases involving such diverse products as printing presses, heaters, toys, food and medication. She has also handled the defense of various environmental claims for fuel suppliers involving 21E claims, releases, propane tank explosions and faulty regulators.
Kathy was selected as a Top Woman of Law for 2011 by Massachusetts Lawyers Weekly. Kathy has served on the Board of Directors of the International Aviation Womens Association since 2007. She was elected a National Director of DRI at the Annual Meeting in October 2012 and will serve a three-year term. Kathy is listed in Who's Who Legal International Who's Who of Aviation Lawyers. Kathy was elected Director of the National Foundation for Judicial Excellence in January 2014 and will serve a three year term.
Representative Experience:
MEMBERSHIPS
International Aviation Womens Association (IAWA)

Board of Directors, 2007-Present
Vice President, Next Generation
Executive Vice President and Secretary, 2014-2016
Vice President, Membership, 2012-2014
Vice President, Annual Conference, 2010-2012
Treasurer, 2007-2010

DRI

DRI Board of Directors, National Director, 2012-Present
Women in the Law Committee
Drug and Medical Device Committee, Board Liaison, 2015-Present
DRI Membership Committee, 2007-2012
Judicial Task Force, Chair, 2014-Present
Committee Engagement Committee, Chair, 2015-Present
Jury Service Task Force, Vice Chair, 2010
Lawyers Professionalism and Ethics Committee, Vice Chair, 2003-2005, Chair, 2005 – 2007
External Policy Group, 2015
Diversity Scholarship Committee, 2013
Issues and Advocacy Committee, 2012-Present
Non-Dues Revenue Task Force, 2013
Committee Memberships, Women in the Law, Drug and Medical Device, Aviation Products, Commercial Litigation, Lawyers Professionalism and Ethics

National Foundation for Judicial Excellence

Board of Directors, 2014-Present
Development Committee
NFJE Judicial Liaison, Massachusetts, 2015

The Harmonie Group

Vice Chair, Aviation Practice Committee, 2009 – 2012

International Association of Defense Counsel
Massachusetts Defense Lawyers Association
Massachusetts Bar Association
American Bar Association
Boston Bar Association
Federal Bar Association
Rhode Island Bar Association
AWARDS
Voted a Top Woman in Law by Massachusetts Lawyers Weekly
AV® Preeminent™ Peer Review Rated
Named a Massachusetts Super Lawyer, 2006, 2013 – 2018
Who's Who Legal Transport: Aviation Contentious
PUBLICATIONS
The Judicial Task Force, Presenter
The Economics of Justice
SLDO Conclave
A penny for the courts
Proving the Details of the 9/11 Attacks: The Admissibility of the Kean Commission Findings
In-House Counsel and Claims Officer Think Tank: Manufacturers, Carriers and Insurers Speak Out on Case Evaluation and Managing Costs of Litigation and Insurance
Proving Medical Causation in Product Liability Cases
Aviation Insurance for the General Practitioner: Demystifying the Types of Coverage
Tips for Effective Mediation
Legal Issues for Fixed Base Operators
The September 11th Litigation after the Closure of the VCF and the Issuance of the Kean Commission Report: What's Left and What's Next?
Compensating the Victims and Preventing the Collapse of the Aviation Industry: The Aftermath of September 11th
Evidentiary Requirements for the Admission of Enhanced Digital Photographs
Alleged Improper Handling of In-Flight Medical Emergencies: A Cognizable Claim Under the Warsaw Convention?
Evidentiary Requirements for the Admission of Enhanced Digital Photographs
Asserting Claims for Sexual Assault Under the Warsaw Convention