EDUCATION
1980, B.A., magna cum laude, Boston College
1983, J.D., National Law Center, The George Washington University
BAR ADMISSIONS
Massachusetts
COURT ADMISSIONS
U.S. District Court, District of Massachusetts
U.S. District Court, District of Vermont
U.S. Court of Appeals, 1st Circuit
U.S. District Court, District of Connecticut

INDUSTRIES
MEMBERSHIPS & AWARDS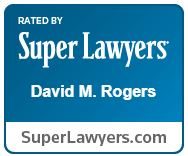 BIOGRAPHY
Dave Rogers has spent thirty years preparing and trying serious personal injury and product liability cases in courts throughout New England and the Eastern United States. Dave represents clients in the automotive, trucking, construction equipment, material handling, utility, consumer products, medical devices, construction and insurance industries. His expertise includes evaluating complicated fact patterns and evidence in the areas of automotive and mechanical engineering, accident reconstruction, vehicle dynamics, safety regulations and standards, biomechanics, occupant kinematics, medicine and injury causation. He has acquired knowledge of the substantive, procedural and evidentiary rules and laws of multiple states through his regional litigation and trial practice.
A major portion of Dave's practice involves preparing corporate witnesses for depositions and trial testimony. He has worked with dozens of in-house corporate engineers and scientists to prepare them on the substantive and technical information about which they will testify as well as the challenges presented by the deposition and trial process itself so as to allow them to feel at ease and comfortable while undergoing direct and cross-examination. The end result has been witnesses who are fully prepared and knowledgeable about the technical issues of the case and who are also capable of presenting persuasive and powerful testimony at trial. In addition, Dave regularly deposes scientists, engineers, physicians and experts in multiple areas of expertise around the country in the defense of his clients' cases.
Dave developed and implemented his law firm's audio-visual conferencing system and the custom designed conference room in which it is located. He uses it regularly to convene legal engineering conferences with clients and experts from around the United States, Europe and Japan. The audio-visual conferencing center has proven to be a valuable and cost-efficient means of communicating with clients and experts to evaluate information and to formulate strategic action plans for cases. Dave has also taken the depositions of dozens of expert witnesses around the United States via this technology which has resulted substantial savings for his clients in legal fees and travel expenses.
Representative Experience:
Zeolla v. Ford Motor Company
Featured Case: First Electronic Stability System Suit Results in Win for Defense
Rediker v. Toyota
Fernandez v. Hino Trucks
Alvarez v. Ford
Sullivan v. Genie Industries
Dangutis v. ThyssenKrupp
Kendrick v. Crown Equipment Corporation
Garcia v. Ford Motor Company
Mayor v. Land Rover North America, Inc.
Brown v. Crown Equipment Corporation
Kramer, Adm. v. Toyota Motor Sales, U.S.A., Inc.
Sarkees v. Marriott
Checker Taxi v. GM
O'Leary v. Genie
Erhart v. Anheuser Busch
Moreau v. Crown Equipment Corporation
Wise v. Doyle
Officer v. Tucker Heavy Equipment
Gagnon v. Crown Equipment Corporation
Moore v. Genie
Whitehead v. Anchor
Tansey v. Paragon Corp.
Riley v. Lindow
Stearns v. Town of Holbrook
English v. Rexworks
Melanson v. Kjellberg
Murphy v. Twitchell
Leonard v. Massport
Skelly v. Trackside Tavern
Knowlton v. Deseret Medical
Dusevitch v. Cumberland Farms
Nagy v. U.S./AUSA
AWARDS
AV® Preeminent™ Peer Review Rated
Named a Massachusetts Super Lawyer, 2011, 2012, 2013, 2014, 2015, 2016, 2017 and 2018
PUBLICATIONS
Making the Winning Argument
Effective Opening Statements
Defense Verdicts In Automotive Product Liability Cases (2012-2013)
Daubert Challenges – A Case Study
Significant Defense Verdicts in Automotive Product Liability Cases
Post-Sale Duty to Warn, Recall and Retrofit
Trial Verdict Update: The Most Significant Verdicts of 2004 from the Perspective of the Defense
Taking Control of Your Case through Effective Initial Investigation and Discovery
Record Retention and Disposal Systems
Taking Control of Your Case through Effective Initial Investigation and Discovery
Within the Bound of the Law, Aggressive Defense without Fouling Out
Zealous Advocacy: Duties and Constraints
Controlling Damages in the Routine Damage Case