EDUCATION
1996, B.A., Rhodes College
1999, J.D., University of Arkansas
2003, M.B.A., University of Alabama at Birmingham
Adjunct Faculty, Miles College of Law (Criminal Law and Criminal Procedure)
October 1999 - May 2002
BAR ADMISSIONS
Alabama
Arkansas
Massachusetts
COURT ADMISSIONS
U.S. District Court for the Eastern District of Arkansas
U.S. District Court for the Western District of Arkansas
U.S. District Court for the Northern District of Alabama
U.S. District Court for the Middle District of Alabama
U.S. District Court for the Southern District of Alabama
U.S. District Court, District of Massachusetts
U.S. District Court for the Central District of Illinois
U.S. District Court for the Eastern District of Michigan
U.S. Court of Appeals, 1st Circuit
U.S. Court of Appeals, 4th Circuit
U.S. Court of Appeals, 11th Circuit
U.S. Supreme Court
INDUSTRIES
PRACTICE AREAS
MEMBERSHIPS & AWARDS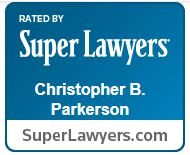 BIOGRAPHY
Christopher Parkerson is a Member of Campbell Conroy & O'Neil, P.C and serves on its Board of Directors. He has extensive trial experience in many states defending national and international corporations in product liability, commercial, intellectual property disputes, and large personal injury cases. Christopher's jury trial experience, combined with his work ethic and approach to the lawyer-client relationship assists him in advising clients on important issues including trial strategy and preparation.
Christopher received his undergraduate degree in International Studies, focusing on the Chinese and Japanese political systems from Rhodes College in Memphis, TN. During Christopher's time at Rhodes, he was on the Dean's List, a letterman on the varsity football team and was involved in various leadership positions on campus. Christopher attended law school at the University of Arkansas in Fayetteville, AR where he was on the Dean's List, Moot Court and a representative on the Student Bar Association. Christopher also attended the University of Alabama Birmingham where he obtained an MBA.
After law school, Christopher joined his father's law firm in Hot Springs, Arkansas. He later joined a firm in Birmingham, Alabama, where he focused his practice on litigation and white-collar criminal defense, participating in many large-scale and high-profile cases and trials, including the defense of two sitting governors, a sitting sheriff, stock brokers, doctors, lawyers and CEOs. Christopher was an adjunct professor at Miles School of Law in Birmingham and a contributing author to the ADDENDUM. After the death of his firm's founder, David Cromwell Johnson, Christopher opened his own litigation practice and continued to concentrate on trial work. Christopher was a frequent commentator on radio and television in Birmingham.
Since moving to Boston Christopher has focused on civil litigation. He has defended products cases ranging from small consumer appliances to large industrial electrical equipment in venues around the country. Christopher is a graduate of the International Association of Defense Counsel's 2009 Trial Academy, held at Stanford Law School in California, and of the National Trial Academy, a premier trial practice seminar held at the
National Judicial College in Reno, Nevada, and sponsored by the American Bar Association's Tort Trial & Insurance Practice Section (TIPS) and the American Board of Trial Advocates (ABOTA).
Christopher served as a faculty member of the International Association of Defense Counsel's 2014 Trial Academy at Stanford Law School. He is also a frequent speaker and author on issues such as trial advocacy, class actions, product liability and civil procedure.
Christopher is a founding member and past-president of the Downtown Boston Rotary Club. Christopher is married to Kimberly Parkerson. Christopher, Kimberly and their three daughters live in West Roxbury, MA.
Representative Experience:
CEI Enterprises (Cornwell) v. Anchin, Block & Anchin
Sherman v. Heritage Hotels
380 Union LLC v. Timco Logistics Systems
In re September 11 Litigation
Jaikins v. Caterpillar
Costa v. Louisiana Pacific
Sachs v. Sears Roebuck & Co.
Agnes v. Whirlpool Corp.
Merrimack Mutual Fire Insurance v. FPEC
Pescatore v. Mead Johnson
New England Wine v. A.V. Imports, Inc.
Combe v. Continental Airlines, Inc.
U.S. v. Jordan, 316 F3d 1215 (11th Cir. 2003)
Doe v. Marriott
Lynch v. MH Concepts
Snaza v. Howard Johnsons International
Tikh v. GE
Smith v. GE
Pereirra v. GE
Houran v. Specialty Minerals
Harris v. Wagner
Breakstone v. Caterpillar
AWARDS
2017 & 2018 Massachusetts Super Lawyer
PUBLICATIONS
Mock Juries: Not Just for Trial Outcomes, International Association of Defense Counsel- Mid Year Meeting
Defense Counsel Training Manual, Third Edition, Chapter 11, Section 2 Opening Statements
Defending Class Actions: A Game Plan for Success
Norfolk Superior Court Bench-Bar Committee Presentation on Voir Dire
The Criminalization of Products Liability Law
Voir Dire Training- Learn from the Experts and Be Prepared
Christopher Parkerson Faculty Member of the 42nd Annual IADC Trial Academy
A Practitioner's Guide: Defending RICO Claims from Cradle to Grave
The Evolution Of Event Data Recorders: The Exponential Growth In Data Acquisition and Retention and What That Means To Litigators, ABA Emerging Issues Conference
David Cromwell Johnson: A Legacy of Teaching
The Changing Face of Due Process